---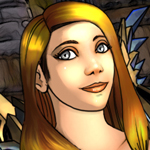 Today marks the 9th anniversary of Azerothica, and for the occasion I have posted a naughty gift crafted by Shina from http://www.theworldofporncraft.com/ which I hope many of you will enjoy.
I still actively answer your comments and questions when I see them, even though I don't post much content lately I do look every day for anyone commenting. However, I do plan to return to my MMO in the future and I will post more news about it when I get to that. There is infact something like that brewing at the moment, not made by me but something in that area which I will post more about at a later point in the future as it progresses, so thats a small hint at something =)
The end of April 2019 marked the first ban wave of nude patch users ever in the history of World of Warcraft. I have been in the scene for 13 years, as i started playing WoW in early 2007 and started using someone elses nude patch. Back then no extra software was required to activate the custom skins, infact I think it wasn't untill the Mists of Pandaria expansion pack that you had to use a modified wow.exe to get nude skins to work. So to me that ban wave kinda marked the end of an era to me.
While I understand that it is against the EULA of blizzard to use nude mods, it's just sad to see it happen having used it for so long. It is likely that botters or cheaters used the arctium launcher for their own benefit and that made blizzard hit down hard on anyone using that, and it being a requirement for any nude mod user, they got the feel of the mighty banhammer as well. I wish it was easier to this very day just to add a simple nude mod which doesn't give any advantages over other players and is simply harmless to anyone. Besides it only works on the users own game client so no one else sees it.
With all this said, I hope you stick around as I will try post more updates in the future, I may still update my nude skins with the new worgen 2.0 model that came out with BFA and future races with Shadowlands expansion. Please stay safe in these weird times both because of the virus but also to anyone in america, since what you're going through is pretty serious. Personally I try avoid any big groups of humans for the foreseeable future until it is much more under control.
Happy 9th anniversary everyone, hope you enjoy the naughty images made by Shina =)
---