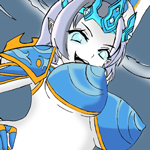 Hey guys , i apologies for taking some time to post a new work , also sorry for those who commissioned for i paused them.
well , i have a good reason , i got tired using paper and pencil , then scan , then clean , then color and filter in Photoshop , so i will buy a Wacom Cintiq as soon as possible , therefor am thankful for your patients and i promise i will continue as i get this tablet , and i promise for more works too.
you can find my works in my Blog-spot : http://omazdex.blogspot.com//
you can know more about my character " Keilora " at : https://www.f-list.net/c/keilora
you can also find me in World of Warcraft-EU-Argent dawn as the character " Keilora ".
contact me for any requests or question.
at the end i like to say , its our pleasure to be in our home " Azerothica " and i'm so grateful.
thank you , and see you around.