---
5th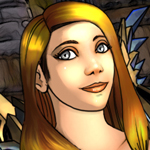 Today marks the 5th anniversary of my site. Since its beginning it was actually only ment as a personal site for my own naughty screenmanipulation pictures. However over the time it evolved into something a little bigger. Other artists have joined, though most of them are now inactive. Over time nude patches were also added to my site.
Even though there isn't too much activity happening on my site as of right now, there is still some activity on the forum. Boggtroll is back and will be editing some more models for both my nude patch and his own. I have also started to make my own "armory", with my own armor edits. However this is not something I work on often, but the armor edits will be released now and then on the forums nude/clothing patch section. When I have made a lot more edits, I will at some point in the future compile them into one large armory patch.
I am also thinking of doing NPC edits, though this task is a lot harder as the filenames of the NPC textures are totally random, there's no ID between the NPC model or the texture name which makes it a bit of a puzzle looking through a few thousand textures contained in one single folder.
With all of this said, I wish whoever visits my site, that they will have a lot of naughty enjoyment, and more of that in the future =)
---