---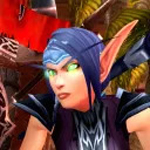 Hello. Ever since last year I have been losing interest in WoW, much moreso than I ever have previously. This left my work in a largely abandoned state, which is a bit of a shame.
So I am gifting it to the community in the hopes that it can be continued. I know one of the most long-standing issues with it is that the boobs have always been problematic – yeah I know, I am not much a fan of that, either, but, I'm kind of a downstairs kind of girl, if you know what I mean. 😉
So – as thus, I've released my work as open-source (full PSD files) with a CC By-NC 4.0 License. The license can be found here: CC BY-NC 4.0
The source files can be found right here: link (140~150 mb download)
I've gone into a lot more detail about what led me to create the project in my Darknest post which you can find here: link
I'm hoping someone finds this useful, and maybe we'll see some more mods like this in the future. 🙂
♥ to you all!
---